Yeats Site
This is part of our project for english class on William Butler Yeats. The project talks about the political beliefs and views + background info on Yeats and Maud, the views of Ireland from Yeats through his poems, and Irish folklore. They are putting a major stress on folklore because it is what keeps all tradition and Irish spirit alive and going.
Yeatswas born in a town near Dublin on June 13th 1865. His father was John Butler Yeats, a noted portrait painter. At the time Ireland was a poor country, the British were ruling them. (Most of the Irish people immigrated to the US) It was unfair for the Irish and Yeats felt that he needed to change this. He started to write poems trying to psyche up, in a sense, the Irish people. His first published book contained the Wanderings of Oisin. He founded the Irish Literary THeater in 1899, he became the director of the Abbey Theater in 1904.
At around 1889 he met Maud Gonne a beautiful woman at the time. He was so in love with her that the loved her even after he was married. She married John MacBride in 1916. That really got Yeats ticked off even though he too got married to Maud but it was only in a spiritual sense.
The first poem that he wrote for her was 'The Arrow'<
>I thought of your beauty, and this arrow, Made out of a wild thought, is in my marrow. There's no man may look upon her, no man, As when newly grown to be a woman, Tall and noble but with face and bosom Delicate in colour as apple blossom. This beauty's kinder, yet for a reason I could weep that the old is out of season. He wrote this after he saw her. He became madly in love with this Celtic goddess. Yet this was not completely true because that was only the belief of Yeats. Through his eyes she was far more perfect than Jesus, mroe beautiful than Aphrodite, and greater than anyone ever. Her true reality was far different however. She was a very eccentric woman at the time.
Yeats died on January 28th 1939 in Cap Ferrat France. His body was moved to a church in Drumcliffe
LOOK HERE FOR COOL STUFF! Any comments? Questions look here. Also, please sign our guestbook!

KatharenaE
has a real cool site too, chek it out.
GO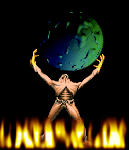 HOME